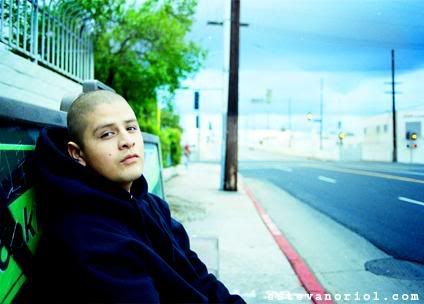 My Mom: "Tell me who your friends are, and I'll tell you who you are."
Ever since she told me that I let go of 99% of my friends and turned it
into a inner circle. Go-gettas, hustlers, everyone plays their part.
Why? So we can get the job done and enjoy the life we've always wanted
to live.
illRoots.com: Why the name R.O.M.E.?
ROME: Respect Over Money Everyday! I just want people to listen to
my music and take what they can from it to enhance the energy in their
lives. I tell stories and share the dreams I have when I'm asleep or
daydreaming. All I want is the respect from the Hip-Hop community, the
rest will follow. Cut the tree at the bottom and all the leaves and
branches will fall.
iR: Who do you attribute most of your success to?
ROME: The way I was raised. I was raised appreciating the little we
had: [a] 1 bedroom apartment, a single mother, breakfast for dinner,
the same shoes for a whole school year, et al. I attribute my success
to this because that's what I rap about and lived, and my fans [can]
relate to this. I lay my whole life on the records. I don't hide
anything about my life because if I did, I wouldn't be sharing these
highlights of my life.



iR: If you weren't in the music Industry where would you be?
ROME: I don't know. The [music] is all I know and will ever know.
I've never had a 9-5. I've never done anything besides music. I don't
know how to do anything else besides music.
iR: You've worked with the likes of Omar Cruz and Mistah
F.A.B. Who is one artist that you've recently worked with that we
should look out for?
ROME: Production wise, I've worked with Rick Ross & Jim Jones,
but what I want people to look out for is my album that's being
released June 15. It's called "My Demo." It will be available as a free
download via my
myspace
. myspace.com/rome
iR: Best piece of advice you got, and from whom?
ROME: My Mom: "Tell me who your friends are, and I'll tell you who
you are." Ever since she told me that I let go of 99% of my friends and
turned it into a inner circle. Go-gettas, hustlers, everyone plays
their part. Why? So we can get the job done and enjoy the life we've
always wanted to live.
iR: Your thoughts on commerce and art?
ROME: It's all about the music. If the music is there, the rest will follow.
iR: At the end of the day what matters most to you?
ROME: My family and my son who is on the way. I want us to live a
better life, whether on earth or in the sky. Everybody has put their
last 5 dollars in the pot in hopes of my success. It's overtime right
now, 'cause pretty soon it can get played out like an old book, you
feel me? I just want the people around me to be happy. And when you do
what you love, it's all smiles.
iR: As an artist / producer, what do you feel sets you apart from all other artist / producer-type artists?
ROME: My work ethic. I live in the studio, I make the beats and
write my own rhymes. If I'm not in the studio, I'm not doing any of
those.
iR: ROME is ________.
ROME: "Inspiration" I'm good energy. That's what I produce, light your candle with my knowledge and pass the light around!
iR: You have seamlessly overcome a lot of hardships in your
life up to this point, what do you feel are some of your most recent
conflicts and what have you derived from past experiences that got you
through these hard times?
ROME: The biggest conflicts I have come across is reaching peoples
attention. People are so quick to judge you or compare you to someone.
I know that when people hear my music all of that is gone. I represent
the bottom, so the only place I can take you or myself is to the top!
I've learned to adapt to environments and play my position. Life is a
jungle, and when you're born, you must choose your animal! Thank you
for the support, and God bless!